After the buzz of a rare third party candidate and a chaos of a cash crisis, Nigerians chose continuity.
The election process, which was supposed to be smoother this year because of technology, was anything but. Opposition parties dispute the outcome, with three of them having boycotted the process to collate votes because of technical glitches and delays in sorting the results. That, and claims on intimidation and violence, have spurred concerns the vote was compromised —an allegation vehemently denied by the election agency.
Questions about the narrow win for Bola Tinubu, the ruling party candidate who was backed by only a third of the states and garnered a similar proportion of votes, may make it more difficult for him to tackle the myriad challenges facing the continent's most populous nation.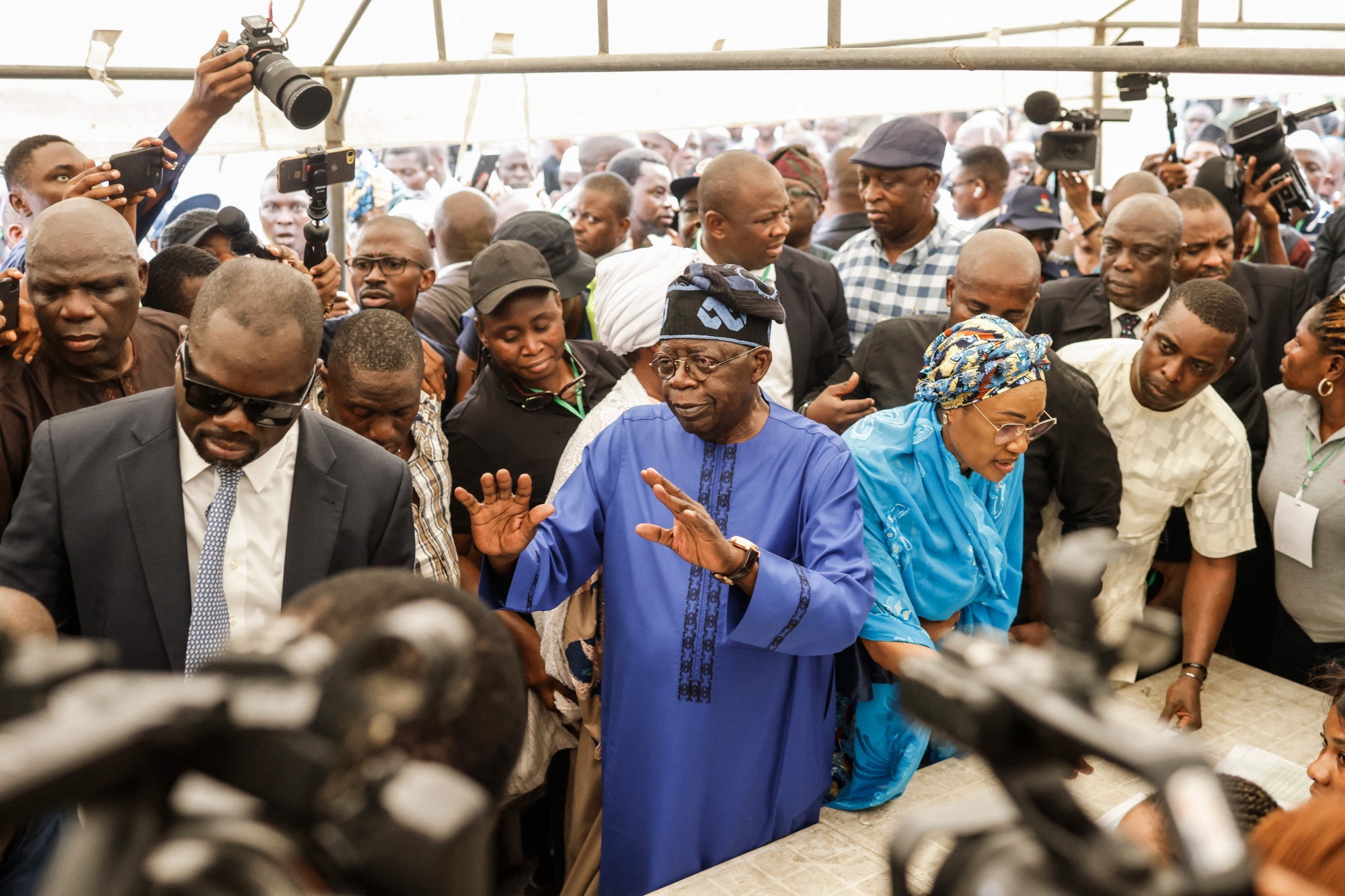 Tinubu, center, in Lagos on Feb. 25. Photographer: John Wessels/AFP/Getty Images
The biggest and most crucial test for the new president will be to do away with a gasoline subsidy that's gnawing at government finances.
Africa's largest oil producer is likely to spend about 3% of gross domestic product this year to cap prices of the fuel used by households and small businesses to run electricity generators in a power-starved country, and of course, to run cars. That's about 6 trillion naira ($13 billion) — or more than the GDP of the Bahamas.
The amount saved by ending the support could fund construction of highways, build schools and invest in fighting crime. That will help Tinubu rebuild faith in the government, something the current administration has steadily been losing.
A survey by Afrobarometer released Feb. 2 showed 89% of Nigerians think their country is going in the wrong direction.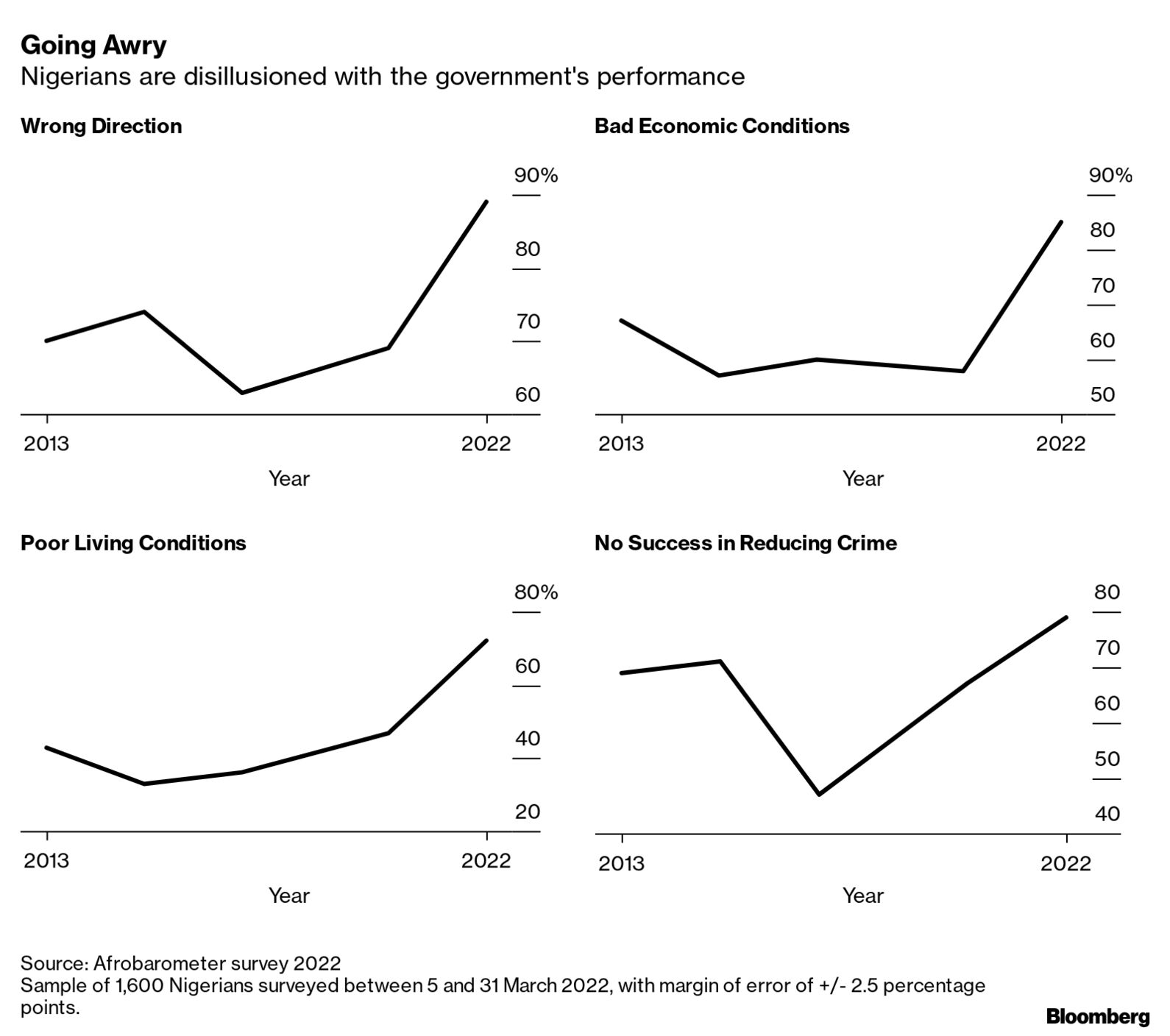 "We don't want to keep repeating failures," a Lagos resident told Arise News before Saturday's vote.
The fix is simple, according to policymakers and analysts we spoke to in Abuja and Lagos over the past few days: Removing the subsidies is the first and most important step.
Yet for Tinubu to make those unpopular decisions, he needed a credible victory.
So, what happens next?
Opposition parties are likely to challenge the outcome in court after they had earlier demanded that collating be stopped because of alleged discrepancies and a lack of transparency.
Tinubu is scheduled to be inaugurated as president — replacing Muhammadu Buhari — on May 29.
Nigerian Ruling Party's Bola Tinubu Wins Race for Presidency
Tinubu was the winner of the Feb. 25 vote, the electoral commission announced at around 4 a.m. local time on Wednesday. The ruling All Progressives Congress Party's candidate secured 35.2% of the ballots cast, while Atiku Abubakar of the main opposition Peoples Democratic Party finished runner up with about 28%. Labour Party candidate Peter Obi garnered 24.4%.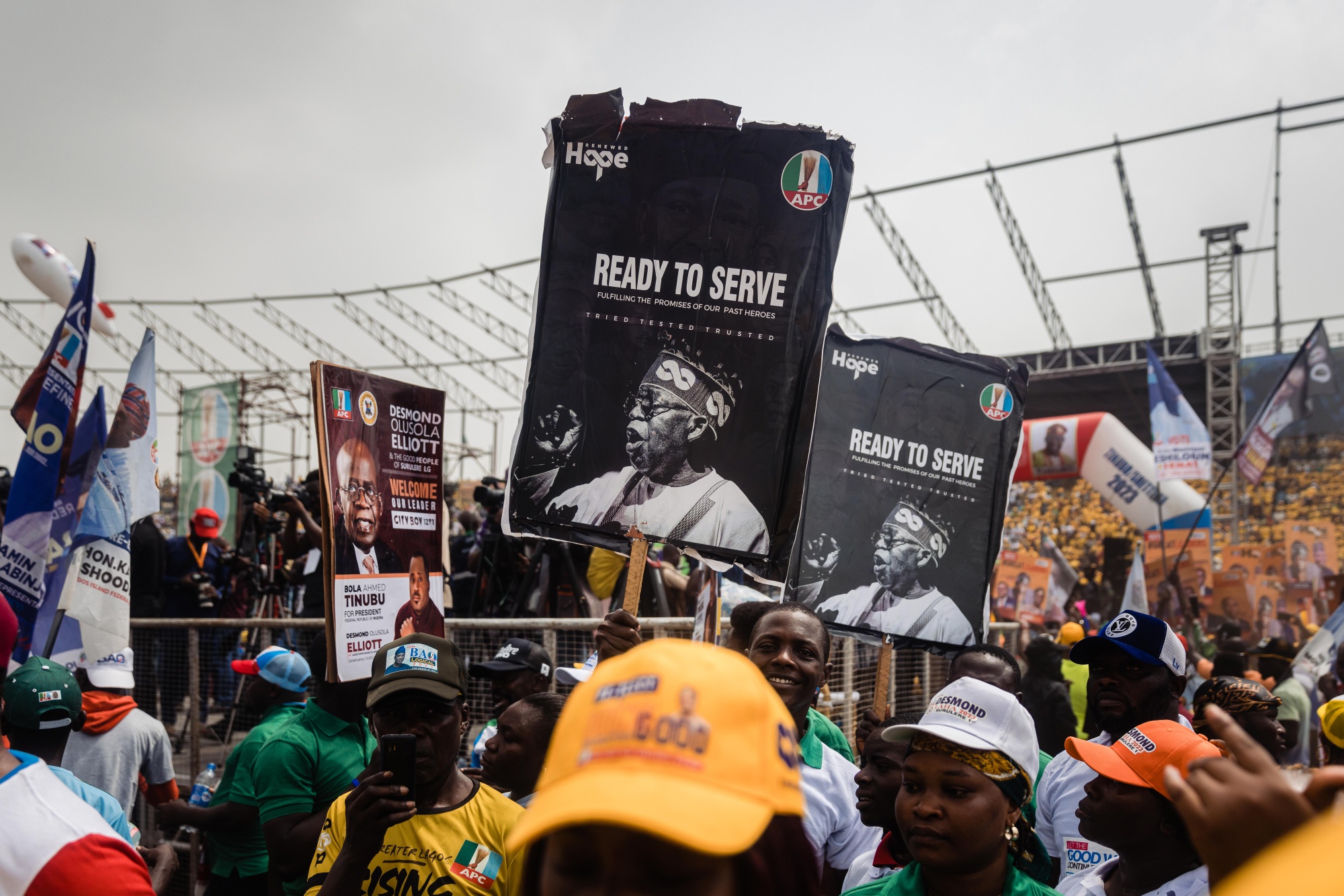 Supporters hold a placard for Tinubu at a campaign rally in Lagos on Feb. 21. Photographer: Benson Ibeaubuchi/Bloomberg
A $13 Billion Challenge Awaits Nigeria's Newly Elected President
Tinubu won't have much time to celebrate. Africa's biggest economy is facing a deepening fiscal crisis, acute shortages of domestic and foreign currency, and widespread insecurity. Anthony Osae-Brown and Ruth Olurounbiwrite that the government's ability to deal with those issues is being undermined by a gasoline subsidy that will drain the equivalent of about two-thirds of the revenue expected to be generated by oil and gas output this year.
In Major Upset, Obi Beats Nigeria's Ruling Party to Win Lagos
In a big surprise, outsider candidate Obi won Lagos state, beating the most powerful politician in Nigeria's commercial center. Obi trumped Tinubu, a former Lagos governor, by a narrow margin. His emergence as a strong contender (he captured another 10 of 36 states plus the federal capital, Abuja) is bound to reshape the nation's political landscape going forward.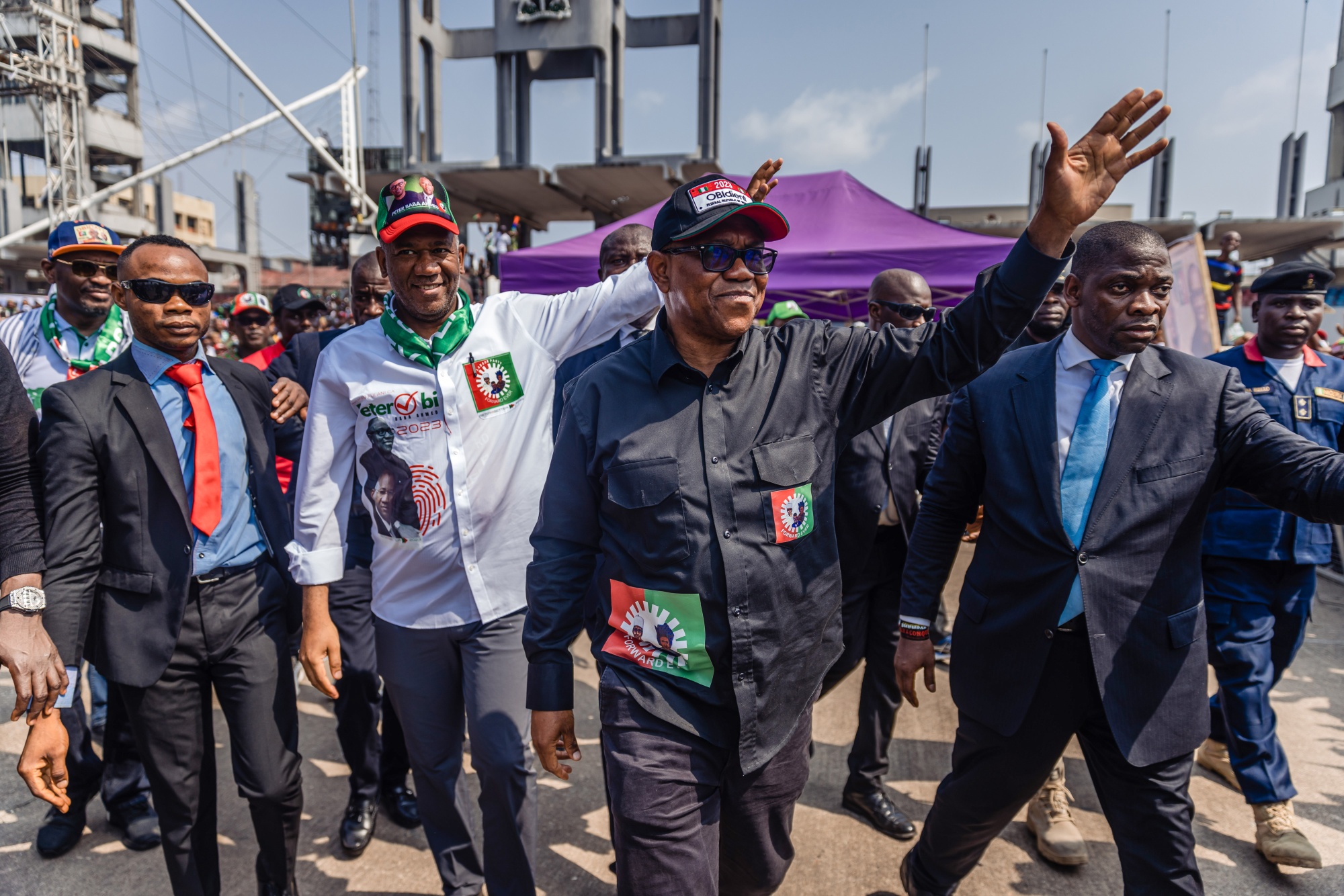 Obi, center, waves to the crowd at a rally in Lagos on Feb. 11. Photographer: Benson Ibeaubuchi/Bloomberg
Delay in Release of Results Saps Trust in Nigeria's Election
Severe delays by Nigerian authorities in releasing results fueled suspicion from opposition groups and civil society that the process was being mismanaged. The electoral commission, INEC, assured Nigerians that the slow progress uploading results was "totally due to technical hitches" rather than "any intrusion or sabotage" of its systems.
Africa's Biggest Economy Crumbles as Voters Pick New President
Last year, 20 million children in Nigeria did not go to school, the currency hit an all-time low, half of adults were under or unemployed, oil production — the lifeblood of the economy — fell to a 40-year low, and gangs of heavily armed bandits had free rein over large swathes of the country. As Neil Munshi, William Clowesand Emele Onu explain, the new
president inherits an economy and country on its knees.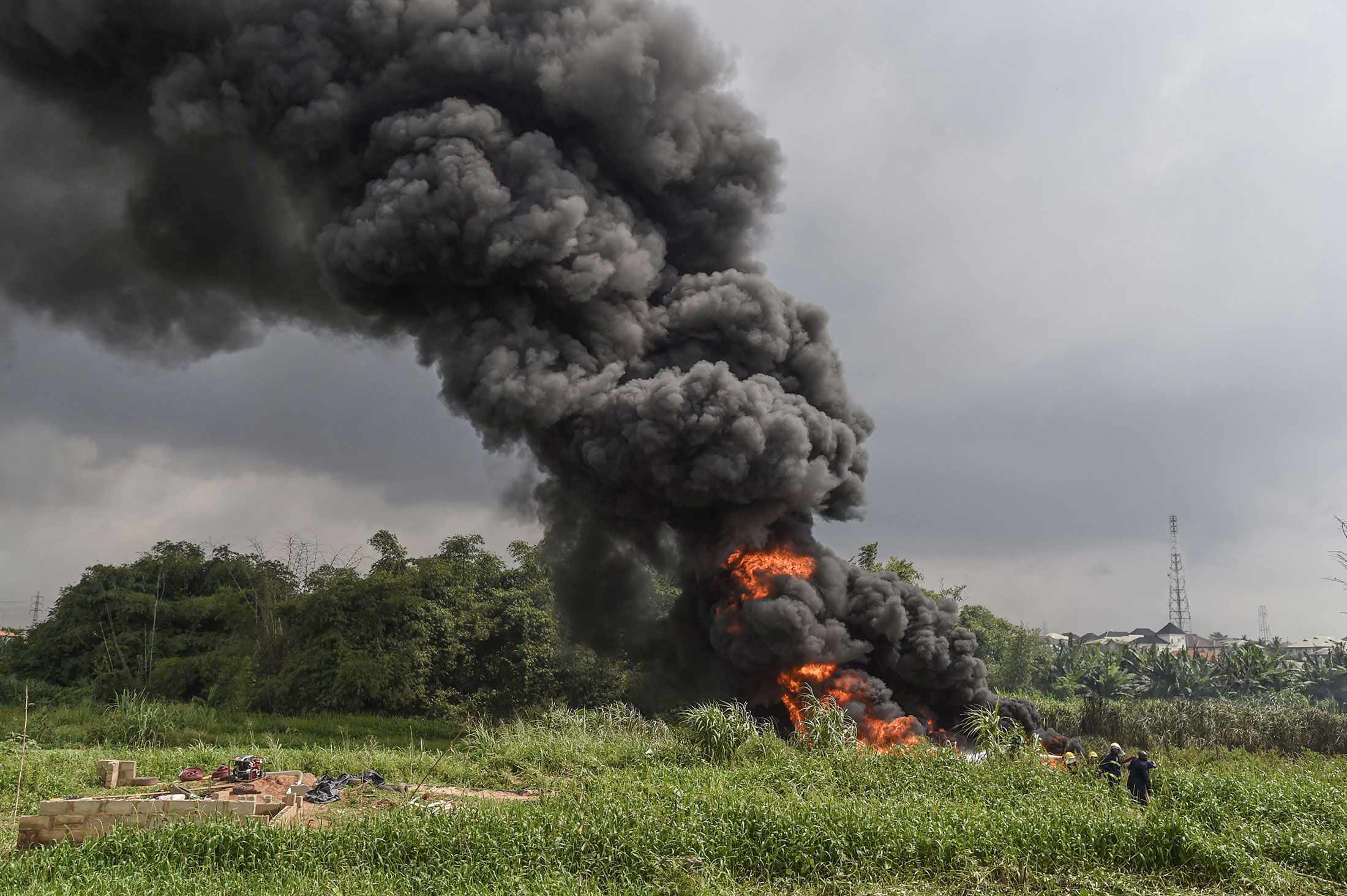 An oil pipeline vandalized in the Ipaja district of Lagos in 2019. Photographer: Pius Utomi Ekpei/Bloomberg
What You Need to Know About Nigeria's New Leader Tinubu
Tinubu's win caps a three-decade political career during which he was lauded by his allies for his management of the nation's economic hub, while also being linked to corruption. Read this profile on the man selected to lead Nigeria for the next four years.
Explainers & Opinion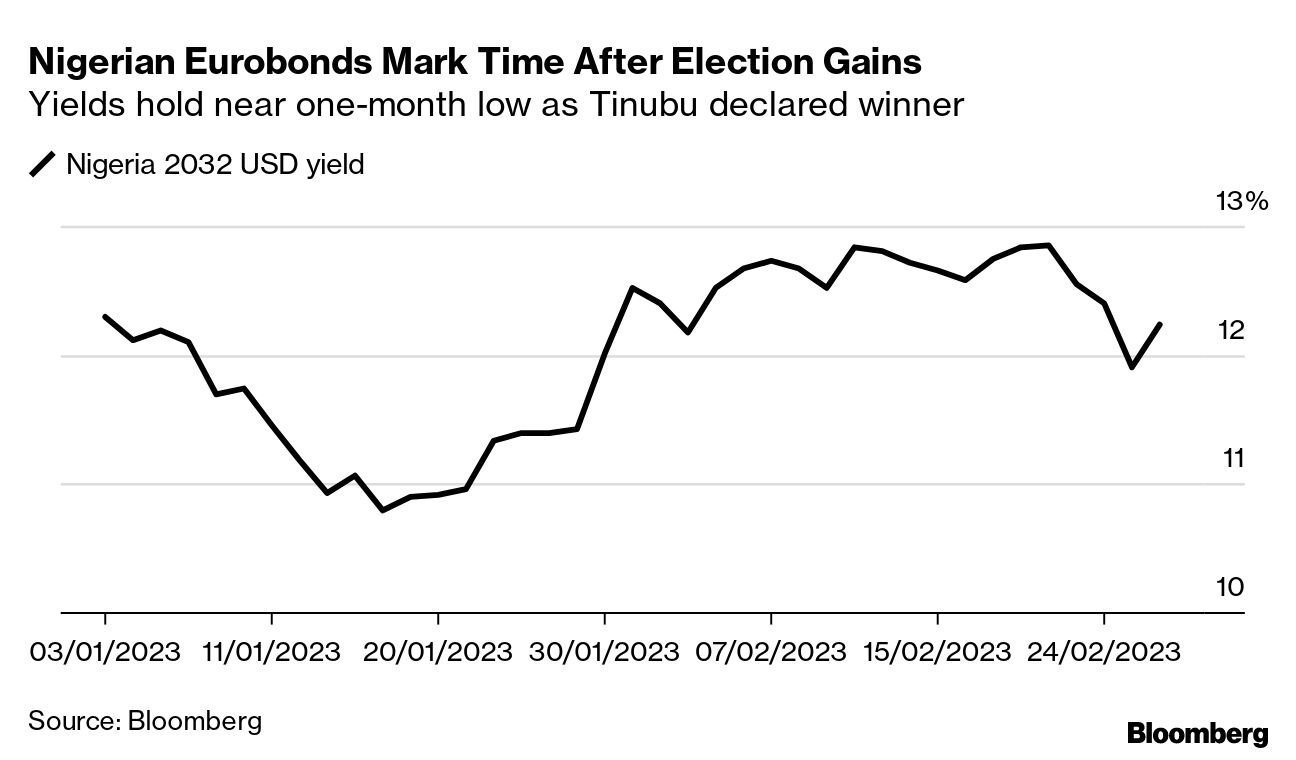 Investors remain wary, with yields on the nation's foreign bonds shifting higher as they await the next steps. Bonds had initially gained, with yields hitting a one-month low on Feb. 27, but faltered as the counting was delayed.
Last Word
The chaos of the government's decision to replace old banknotes with new ones offered a silver lining: sapping the ability of political parties to buy votes. The scourge usually comes standard in most Nigerian elections, with party operatives seen handing out anywhere from 500 to 10,000 naira ($1.09 to $21.70) to voters. This year was different — the acute shortage of notes that crippled economy in the run-up to the ballot left parties without the means to pay for support. There wasn't a bill to be seen at one polling unit in the Maitama neighborhood in the capital, Abuja, that was the scene of blatant payments during the 2019 election.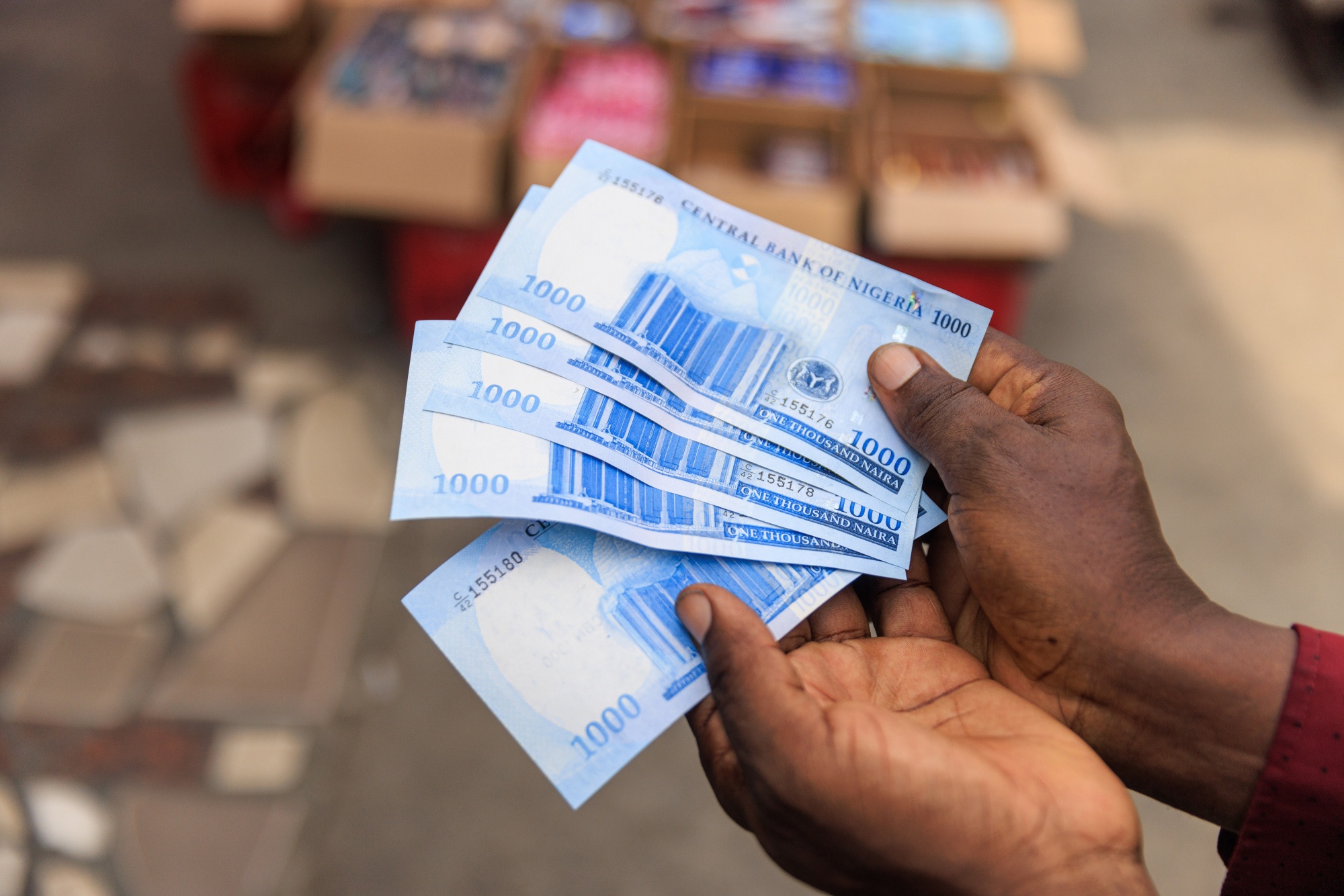 Newly-designed 1,000 naira banknotes. Photographer: Benson Ibeabuchi/Bloomberg